Knee sleeves are becoming popular among strength training athletes – this includes powerlifters, olympic weightlifters, CrossFitters, and those who like to squat heavy. It would be a rare occurrence to walk into a gym and NOT see someone in a pair of knee sleeves. Sleeves are great for athletes who want more support during their workouts or while competing in their sport. They're even useful for the regular everyday person who wants support throughout their workday. The compression of knee sleeves is also shown to promote circulation and reduce recovery times.
There are a TON of options out there when it comes to knee sleeves – I researched over 50 models and tested 10 of them extensively to present to you my top 4 best knee sleeve options for squatting, running, powerlifting, olympic weightlifting, CrossFit, and every kind of activity you can imagine that would require knee sleeves. A lot of reviews out there are using manufacturers info and pictures and haven't even used the products before themselves. I own and have squatted in all of these sleeves, and ran in a few of them to test them and provide you with REAL information. Here are my quick picks before we get into the details:
Best knee sleeves for powerlifting & heavy squats: Strong Sleeves
Best knee sleeves for olympic weightlifting, also good for squatting: Rehband 7051 7mms
Best knee sleeves for running, general athletics, sports, and improved recovery: MavaSport sleeves
Best budget knee sleeves for powerlifting, weightlifting, and squats: YaWeLift knee sleeves
The best knee sleeve for powerlifting, and heavy squats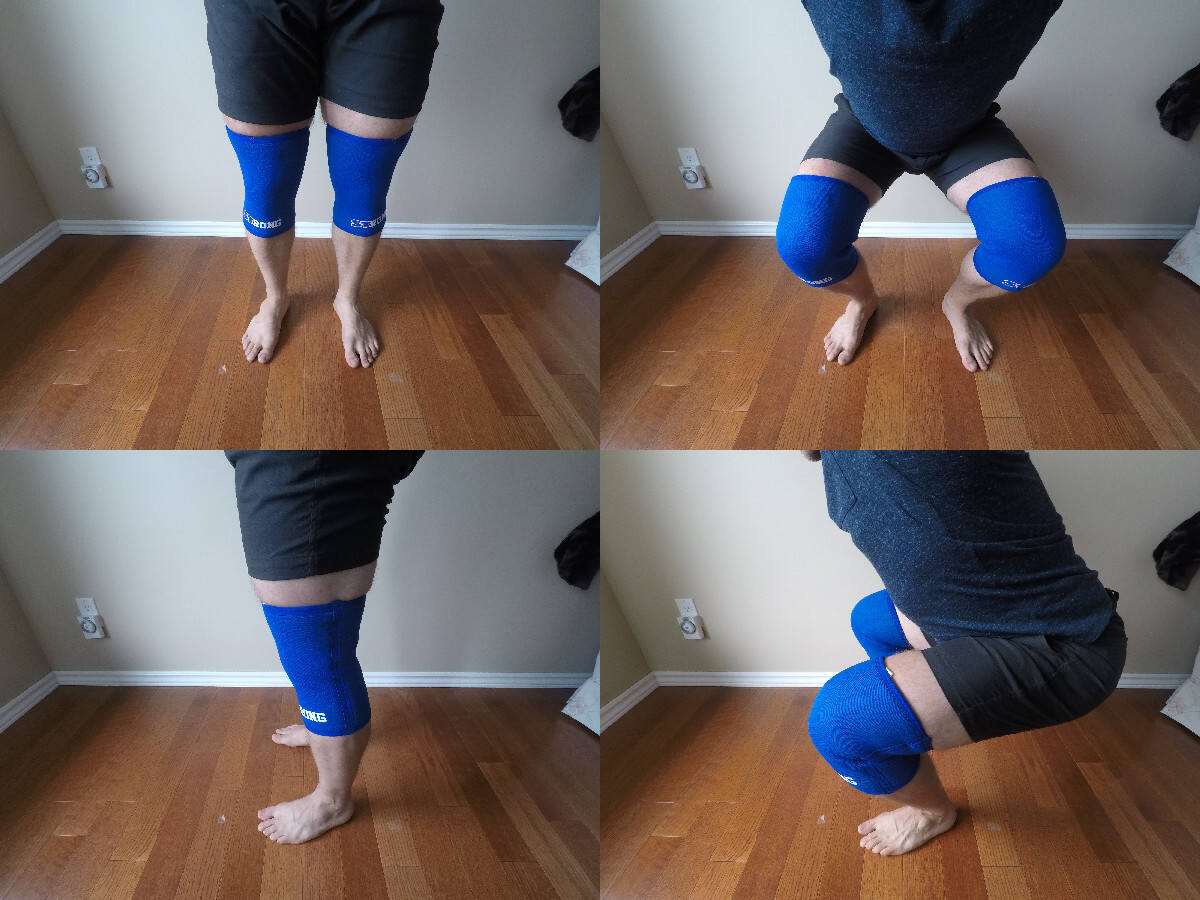 Here are the heavy hitters on this list – the Strong Sleeves by Slingshot. These sleeves are my recommendation for the lifter, or powerlifter who really wants support from their sleeves – and they want to use them to LIFT MORE. You can get these sleeves at your regular measured size (more on getting the right size sleeves later) to wear them everyday while squatting, OR you can size them down one and have a tight-as-heck competition fit that will add even MORE weight to your squat. These sleeves have seams that run vertically and they give the best lateral support out of all the sleeves on this list. They're also the thickest and most robust sleeves on this list, compared often to the SBD knee sleeves – I think they're almost identical and the SBD's and they're cheaper and more readily available (on Amazon for ease of purchase).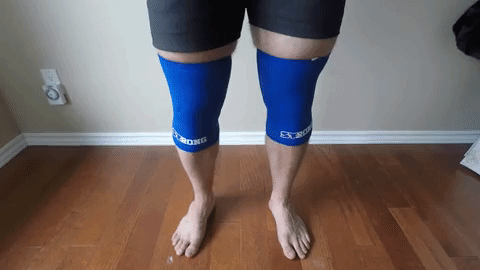 Cons: Fairly expensive, depending on what size you get they're uncomfortable to wear between sets, restricts ROM in favor of more support
Alternatives: Rehband 7mm sleeves are a close second for a powerlifter or squatter who might feel restricted in the Strong Sleeves, SBD knee sleeves, YaWeLift 7mm knee sleeves for a budget version.
Read my full review of the STrong Sleeves here.
[su_divider top="no"]
The best knee sleeves for olympic weightlifting, squatting, and CrossFit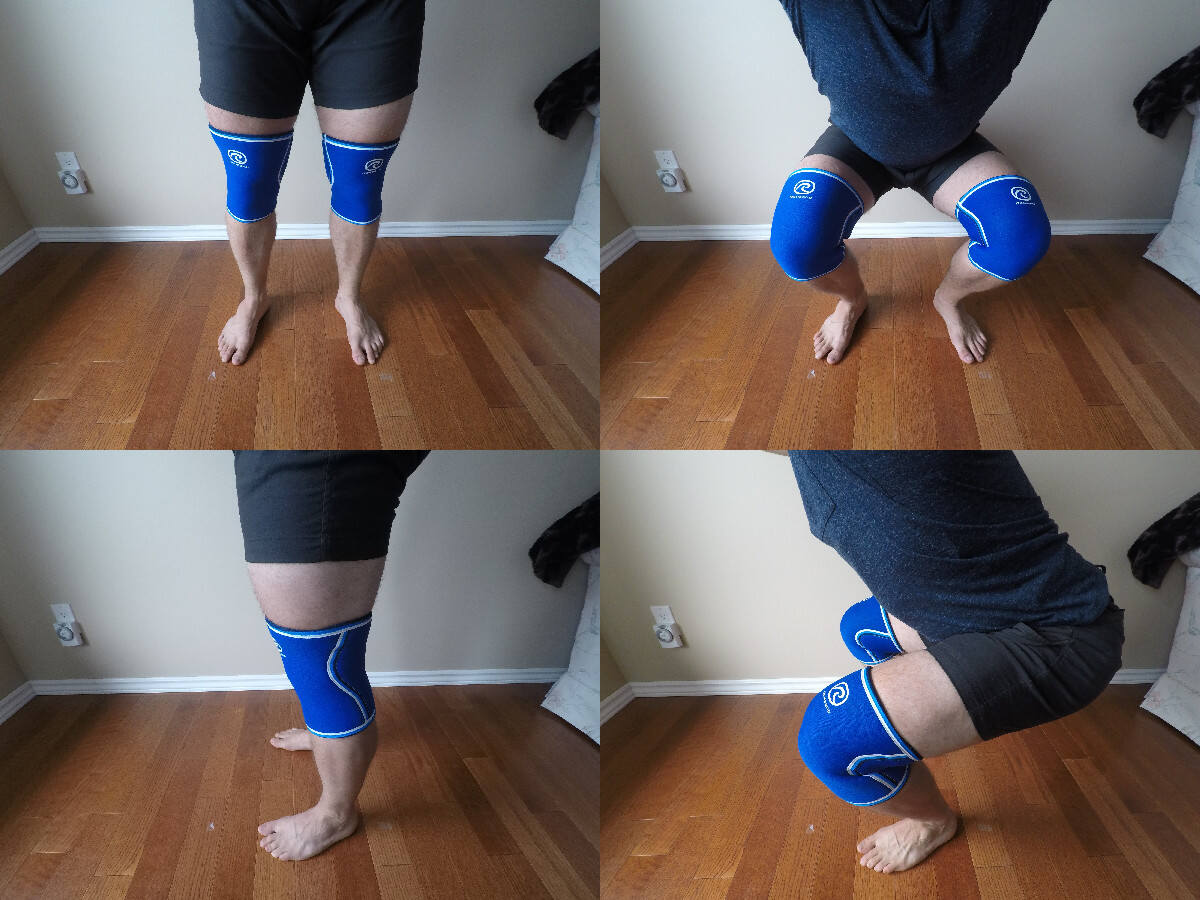 The Rehband 7051's are the all around best knee sleeves in my opinion – this 7mm version is great for squatting, weightlifting, oly, and CrossFit – you can use them for powerlifting as well but if you're serious about the sport I would probably recommend the Strong Sleeves. The Rehbands are comfortable, have contoured stitching that makes them bend with the knee a bit more for high range of motion movements. They feel very supportive throughout the squat and olympic movements but they're not restrictive at all. They give a good rebound and fit the nicest out of all the squatting sleeves on this list.
They also have a 5mm version which is nice for someone who has a hard time with thicker sleeves, or wants more range of motion and mobility for activities like CrossFit or olympic weightlifting – even running. If you're a lighter or smaller person in general you might appreciate a 5mm knee sleeve with thickness proportionate to your body type.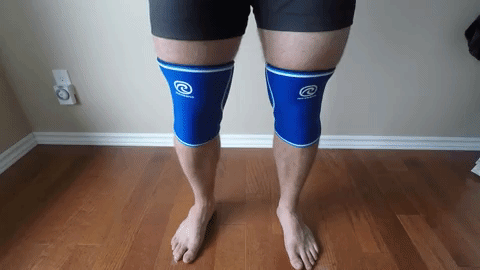 Cons: PRICE – these suckers are expensive at almost $50 each. The material is also not the most durable and the Strong Sleeves will likely outlast them due to the more exposed stitching. The logo is also not the best screening-type and will wear off slowly but surely.
Alternatives: Rehband 7751's are the 5mm thick knee sleeves that I recommend as the lighter duty pair – still great for squatting, oly movements, CrossFit workouts, and running.
[su_divider top="no"]
The best knee sleeve for running, general athletics, sports, and improved recovery (daily use)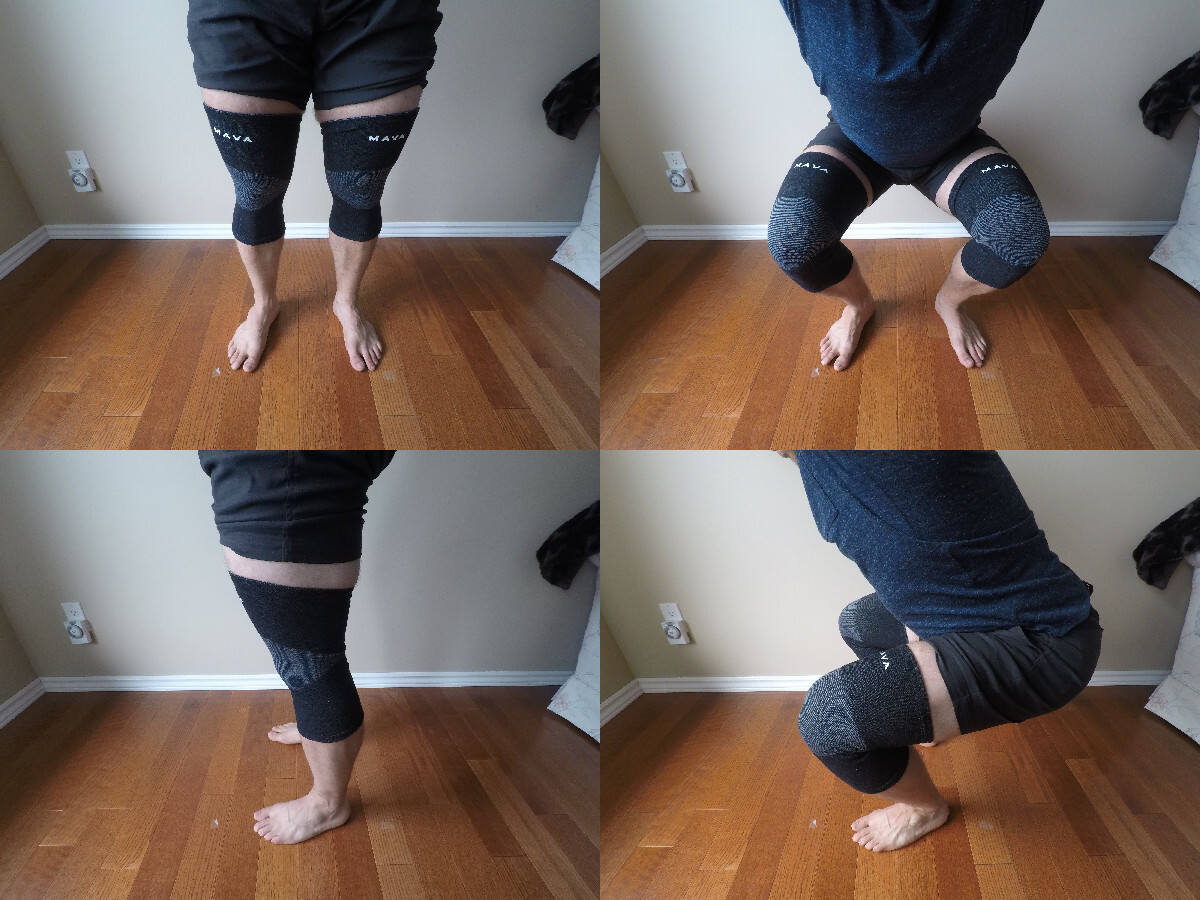 I wasn't sure how the Mava knee sleeves would feel, initially it didn't look like they would give much support but I was pleasantly surprised to feel the warmth and compression they gave. I would recommend these sleeves for a beginner squatter, someone who wants a bit of extra support in the gym or throughout the day working a labor job. They're also great for running and give nice knee support and warmth throughout the run. They're also very reasonably priced so it's hard to go wrong with the Mava athletic sleeves if you want something entry level, or basic support for everyday labor. Also a great and non-intrusive sleeve for general athletic usage for say a basketball player, tennis player, or any type of athlete who wants some extra knee support during training or competition.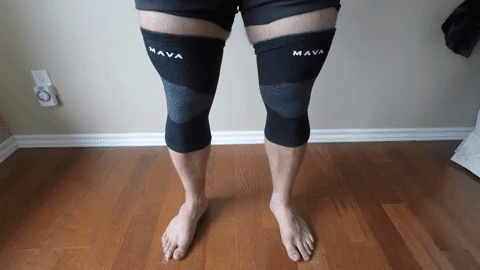 Cons: None really, these do exactly what they describe at a very low price. The only con I can think of is they might not last very long if you wash them frequently – so maybe try to wash them as infrequently as possible.
Alternatives: The Tommie Copper sleeves are very similar to the Mava's except they just weren't quite as comfortable and I found myself readjusting them frequently. They're also a bit pricier but offer up some additional recovery benefits that might be worth it if you want the sleeves specifically for resting and recovery.
Read my full Mava Sports knee sleeve review here
[su_divider top="no"]
The best budget knee sleeves or powerlifting, squatting, olympic weightlifting, and CrossFit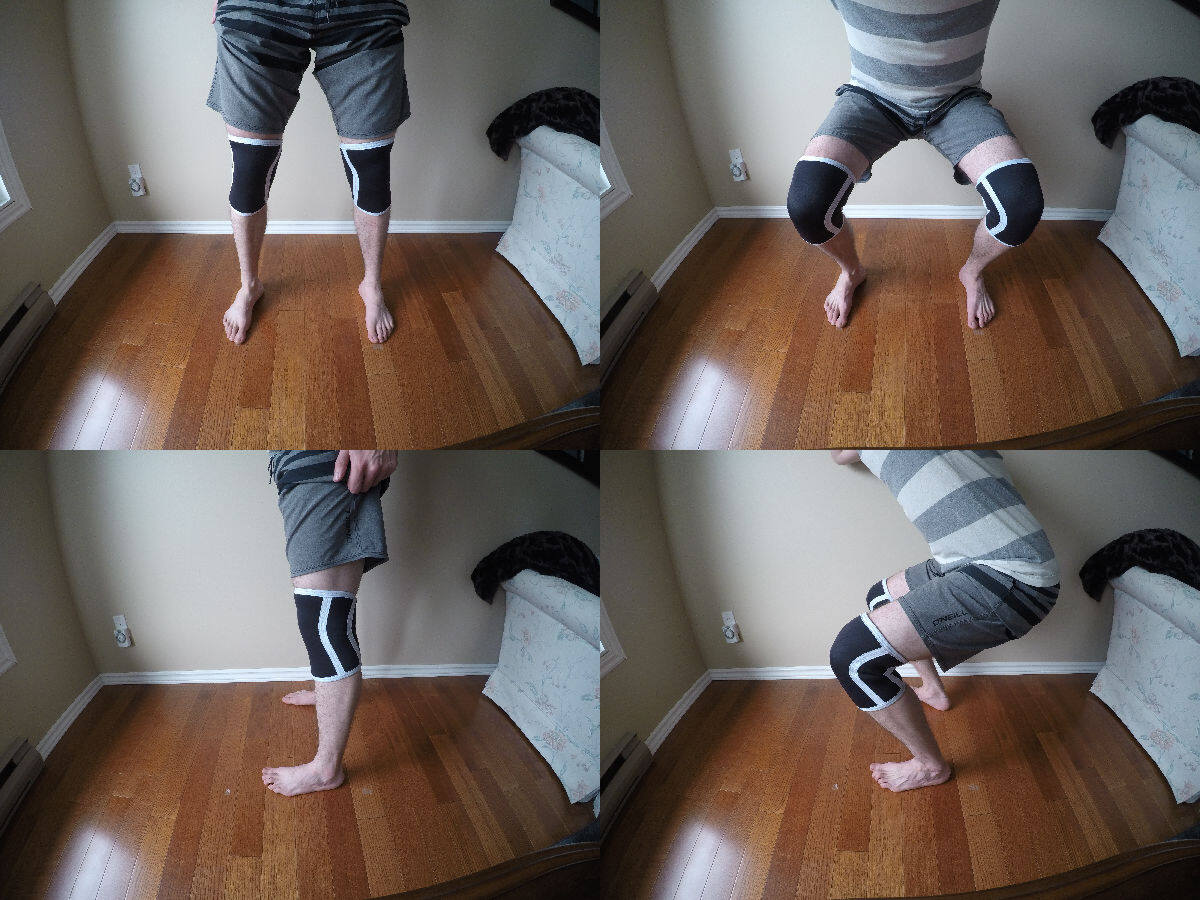 Look the YaWeLift sleeves as a set of Rehbands without the Rebhand price. You get two sleeves for half of the price of one Rehband and they're really quite solid. They give a good rebound in the squat, have contoured stitching like the expensive sleeves – and they feel great. I'd say the stitching on these is actually a bit more robust than that on the Rehbands, however the material is not as high-quality like on the Rehbands.
Overall I would recommend these sleeves to the lifter, powerlifter, or oly lifter wanting a pair of sleeves but has budget in mind. You can squat some serious weight in these and keep some serious cash in your wallet so check them out. I was pleasantly surprised with how close their support came in comparison to the Rehbands and Strong Sleeves.
Cons: Not as much support as the heavy hitters (Strong Sleeves & Rehbands) but still pretty darn supportive. Not as flashy if that matters to you, pretty basic looking sleeves.
Alternatives: I didn't find any sleeve at this price point that wasn't poorly constructed or fit poorly around the leg.
Read my full review of the YaWeLift knee sleeves here!
[su_button url="http://yawelift.com/?product=7mm-ultra-strong-knee-sleeves-pair&ref=2″ target="blank" background="#5d7bec" size="6″ center="yes" icon="icon: shopping-cart" rel="nofollow"]Check the price here[/su_button]
[su_divider top="no"]
Picking The Best Knee Sleeves For You
What type of knee sleeve stitching is best for you
The three types of sleeves you're looking at this article utilize vertical stitching (Strong Sleeves), contoured stitching (Rehbands and YaWeLift sleeves), and a weaved elastic polyster sleeve (MavaSports sleeve).
Vertical Stitching: Offers the best lateral knee support and the best rebound out of the hole which is specifically desirable for heavy squats and inherently, powerlifting. They may not however be great for someone performing moves that require more mobility and range of motion in the knees like a clean and jerk, or snatch – OR if you're doing CrossFit workouts that mix in calisthenics and weightlifting. Vertical stitching offers the most rigid support, is restrictive, and a bit uncomfortable.
Contoured Stitching: Offers great knee support and allows your knees to move freely while giving you some bounce in the hole. Great for squatting however not as hardcore as the vertical stitched sleeves, great for olympic weightlifting movements and CrossFit workouts. Contoured stitching is comfortable, supportive, and keeps your knees compressed and tight for complex movements.
Elastic polyster/cotton: Offers a nice amount of knee support for various activities be it running, walking, general athletics, or if you want to wear them during the day for recovery purposes. You can also wear them during squats or weightlifting workouts if you want a bit of support and warmth but don't want anything intrusive. Elastic polyster stitched sleeves are great for general usage where you'll be wearing the sleeves for extended amounts of time as they're very comfortable.
Knee sleeve thickness guide: 5mm vs 7mm knee sleeves
Not a hugely debated point, but still one to touch on if you're considering whether you want a thicker or thinner sleeve. If you want the most support possible for heavy squats and powerlifting, go with the 7mm options for your desired sleeves. If you're into oly and CrossFit you may still want 7mm sleeves but definitely get a contoured sleeve. If you're into higher mobility activities like the previously mentioned ones, you may consider 5mm sleeves to be less restricted and also have less material bunching up around your knee if you're hitting deep squats, deep snatches, and deep cleans. 5mm sleeves are also nicer if you're of a bit smaller stature and don't want all the material that comes with the 7mm option.
Knee sleeve sizing: how not to screw up your order
Not a huge deal since most retailers are awesome with returns, but it's still annoying having to return your sleeves when you'd rather be squatting in them. My biggest tip here is FOLLOW THE MANUFACTURERS GUIDE – they will give you diagrams, give you measurements, and tell you what sleeves to get. Follow their guides and use a flexible measuring tape, or use a string and then measure it on a ruler/measuring tape afterwards.
IF you want a tighter fit, go down a size and reap the benefits of some super tight sleeves that will let you squat more weight with the support of the sleeves. I have a tight pair of Strong Sleeves that give me way more support and confidence in the bottom of the squat than my Rehbands – definitely giving me 5-10lbs extra here.
Using your sleeves properly, should you use them every time?
Whether you're using your sleeves for the first time, or are looking for some tips on how to properly use and how often to wear your sleeves – this is the section for you. Make sure that you pull the sleeve up high on your quad/thigh so that the middle of the sleeve is over your kneecap.
I personally don't think you should use your knee sleeves every time you squat. You sure can wear them frequently but I think every once in a while you should take a week or several workouts off from using them to allow your tendons and ligaments and joints to catch up with the weight you're lifting. Don't solely rely on them and allow your body's natural capability to match your capability with the sleeves.
How to take advantage of your knee sleeves while squatting
If you're using heavy duty sleeves for the first time (7mm) you may find you need to push your knees out into the elasticity and compression of the sleeves to get the best effect. Lighter sleeves like 5mm or elastic style sleeves will let your squat track naturally but for the first time you use say the Strong Sleeves your squat will feel a bit different.
I believe that you can take advantage of knee sleeves more specifically while squatting by using a wider stance. If you watched equipped powerlifters who use knee wraps, they often use a very very wide stance to utilize pushing the knees out into the wraps (similar to sleeves) to get a huge rebound out of the hole and stay tight the whole time.
Best Knee Sleeves For Every Need: Wrap Up
Thanks for reading my knee sleeve review – I hope my real world experience in testing several knee sleeves, squatting in a bunch of them, helps you pick the right pair for you. As a quick recap I'd recommend:
For powerlifters: Get the Strong Sleeves, they rock and provide the most support (especially lateral) of all the options
For olympic weightlifters: Get the Rehband 7051's 7mm knee sleeves, they provide awesome support and great range of motion with the contoured stitching
For CrossFitters: Get the 7mm Rehbands for extra support or 5mm Rehbands if you favor more mobility
For running: Get the MavaSport sleeves, they provide good compression, warmth, and are super comfortable
For general athletics, and everyday use: Again, MavaSport sleeves are super affordable and useful for the everyday individual
For budget needs: Get the YaWeLift sleeves, they're the best budget sleeves similar to the Rehband 7mm sleeves. Great for squatting, powerlifting, or olympic weightlifting if you're budget conscious.