The best knee sleeves are ones that not only protect your knees while performing athletic movements and lifting weights, but they also need to be durable and provide good value.
The importance of protecting arguably the most used joints in your body (your knees) is often overlooked while squatting, deadlifting, and playing sports. This simple piece of material can not only protect you from injuries but ALSO increase how much weight you lift by supporting your knees, providing compression, and give you rebound out of the bottom of the squat or lift.
If you don't have time to read the full article, here's my quick advice:
For squatting and powerlifting specifically, get knee sleeves that are as thick as possible and provide great compression. This is so you get the best support and also a springy rebound out of the bottom of the squat, because I assume you want a heavier squat! If you want some of the toughest sleeves around check out the YaWeLift Ultra-Strong sleeves for squatting.
If you do CrossFit or Olympic lifting you have two options from Rebhand in my opinion. These are lightweight and flexible sleeves that come in either 7mm or 5mm thicknesses. As a general recommendation I'd say go with 7mm for Olympic Lifting and 5mm for CrossFit. Of course this is personal preference but CrossFit generally requires some more varied movements.
For everyday use if you just want a bit of extra support, go with the Kunto sleeve – it's reasonably priced and the most comfortable on this list!
Now let's kick things off with a review table covering our top picks for knee sleeves, be it for powerlifting, weightlifting, squatting, CrossFit, or a specific sport – we've got you covered!
Knee Sleeve Review Table
| Sleeves | Product | GainsBible Rating | Opinion | Get it here |
| --- | --- | --- | --- | --- |
| YaWeLift Ultra-Strong Sleeves | | (4.5 / 5) | Super strong neoprene sleeves available for a really reasonable price. Beats out the rest on value and durability. | Get them here |
| Rehband 7051 | | (4.5 / 5) | Great knee sleeves for all types of lifting, and any sport. | Get them here |
| Emerge Knee Sleeves | | (4 / 5) | Solid sleeves for a great price. Multi-use sleeves. | Get them here |
| STrong Sleeves | | (4.5 / 5) | Best lifting knee sleeves. These are heavy duty sleeves that might be uncomfortable for sports but are great for powerlifting and weightlifting. | Get them here |
| Kunto Knee Sleeve | | (4 / 5) | Good compression knee sleeves. Great for everyday use as they're flexible and comfortable. | Get them here |
| Rehband 7751 Sleeve | | (4 / 5) | Good light compression sleeves - great for crossfit or olympic lifting where you don't want to be restricted. | Get them here |
Best Knee Sleeve Individual Reviews
Before we get into the individual reviews, let's go over some ground rules for what exactly makes a knee sleeve good.
Fit: Fit is arguably the most important thing to consider when picking a knee sleeve for whatever activity it is you need them for. Now depending on what you're doing i.e. squatting for powerlifting you might want a very thick and tight fitting knee sleeve that will give you the best support and increase your lifts. For CrossFit and Olympic lifting you want similar support but probably something a bit more flexible and comfort for extended wear.
Thickness: This is almost the same as fit, but could depend on personal preference. Thickness will be determined by the amount of material so you would expect that a thicker sleeve would provide more support and compression than a thinner one. Also it would be more rigid and uncomfortable to wear for an entire workout – so you might be putting them on and taking them off semi-frequently. Pick a thickness that is appropriate for your activity – i.e. for powerlifting usage get thicker ones, for Olympic lifting and Crossfit get thinner ones, and for regular everyday use get thinner ones.
Durability: Here we look at material, stitching quality, and how well the sleeves stand up to regular use. You can pay less for cheaper sleeves which is fine if you don't use them very often. If you're wearing your knee sleeves for multiple workout sessions per week you'll like want a durable pair so you're not buying new ones every few months.
Now that we have some idea of what we're looking for, depending on your activity of choice and budgetary needs – let's check out reviews for some knee sleeve options in each category.
YaWeLift Ultra-Strong 7mm Knee Sleeves (4.5 / 5)
In a line: Super strong knee sleeves for squats, Rehband competitors without the Rehband price.
These sleeves are new in town and they plan to hang around for a while. With quadrouple stitched 7mm neoprene they offer the support you want and need for heavy squats, and other powerlifting motions that you want to be wearing sleeves for. The next kicker is that they're beating out the competition on price! Often times when you're checking out a cheaper pair they've skimped on some aspect but this is simply not the case with YaWeLift sleeves. I used to wear the SlingShot sleeves until these came around and I haven't looked back since.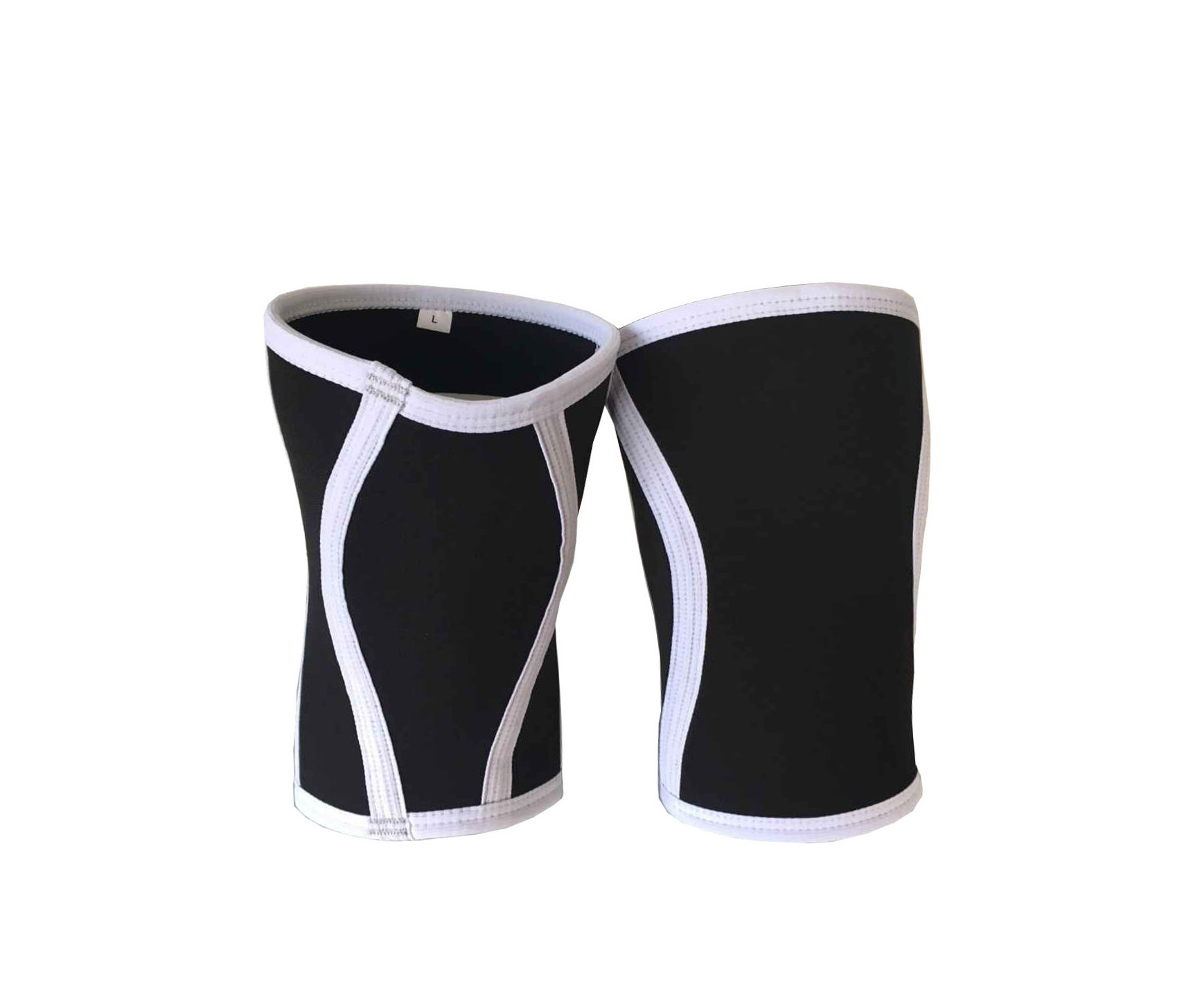 Super thick 7mm neoprene sleeves great for any strength movement, especially squatting
Quadruple stitch design has you covered from front to back
Rehband quality without the Rehband price
Sized from 13-19.5 inches (measure one inch above the knee)
The Rehband 7mm Knee Sleeve (4.5 / 5)
In a line: Best overall knee sleeves, but expensive
Walk into any gym or watch any CrossFit/powerlifting/Olympic lifting videos and these sleeves will start to look realllll familiar. Rehbands are a high-quality knee sleeve and this is one of their most popular models. Let's look at the features: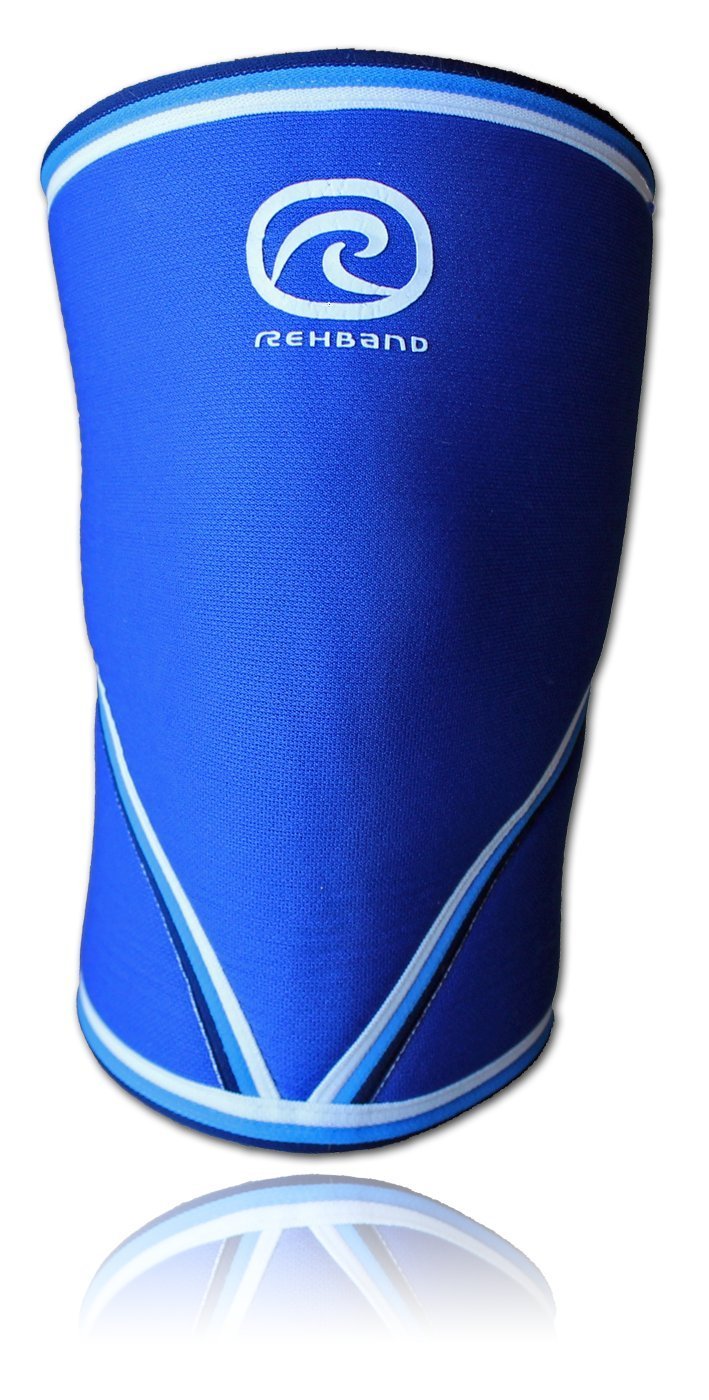 IPF and IWF approved – important for competing
7mm thick Rehband neoprene
Prevent injuries and also wear them to rehab your knees
Proven to increase performance
Sized from 27cm-42cm+
Really this is the top of the line when it comes to the knee sleeves available – you pay a premium price and it's only for one sleeve but I've never seen a pair of them break. The only downside is that the Rehband logo will wear out fairly quickly.
The Emerge 7mm Knee Sleeve  (4 / 5)
In a line: Solid knee sleeves for a great price.
If you're after the top quality, competitively priced, and reliable knee sleeves on today's market, Emerge is your only choice. They've got the best balance of compression and flexibility we've ever come across. Take a look at their other standout features: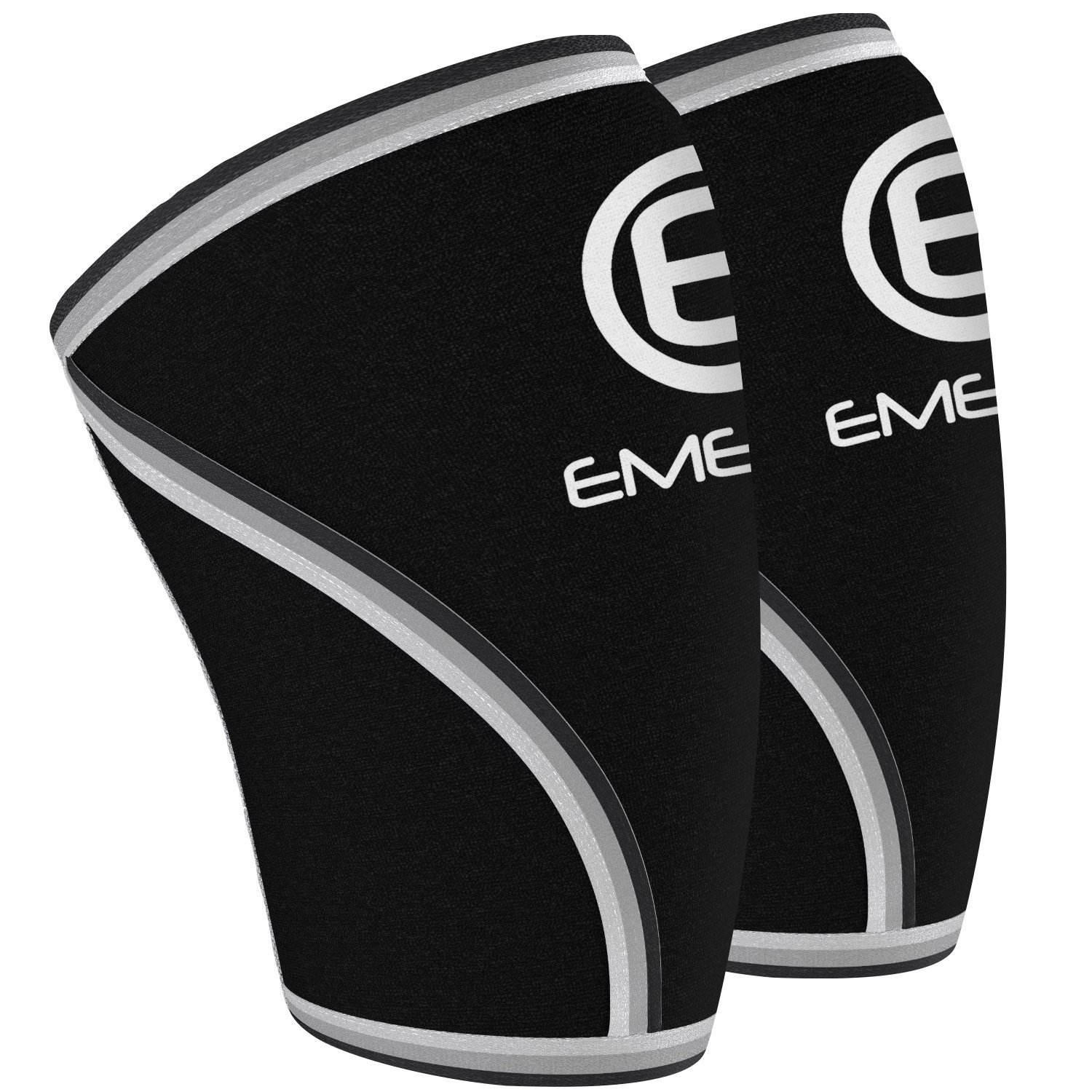 Breathable, ultra high density neoprene

Soft, yet durable material

Sweat absorption and odor free

Fitted anti slip material

100% lifetime guarantee
Emerge may not be the most well known brand on the market, but if you are wanting to pay for performance, rather than a brand name, it's the obvious choice. In terms of cost effectiveness, performance and durability nothing compares to Emerge.
Nordic Lifting Knee Sleeves (3.5 / 5)
In a line: Great value knee sleeves
Aside from the Rehbands, the Nordic Lifting sleeves are my second go to recommendation and sometimes I'll even suggest them over the Rehbands because of the great value. You get two ready to go sleeves for the price of the Rehbands and they're almost on par with them – the material is slightly lower in quality.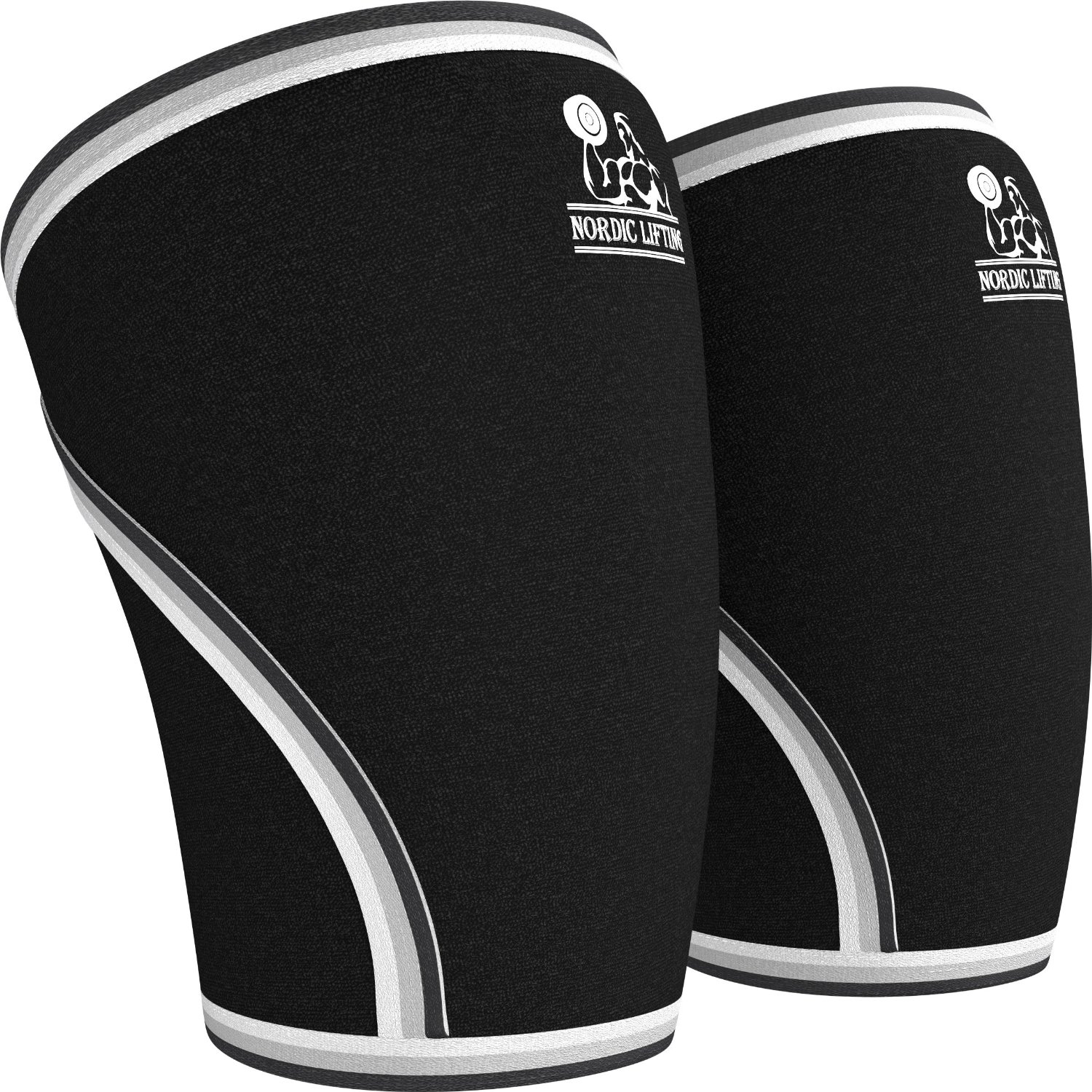 Includes a pair of sleeves (not just one)
7mm thick neoprene – very similar to the Rehbands
Provides great compression
Durable
Great value
They won't last quite as long as the Rebands, but the value is great for the price and they'll last you well for a year or two at least. They're basically the same sleeve as the higher-end options but the material isn't as high-quality – the compression and elasticity will wear out over time.
SlingShot STrong Sleeves [4.5]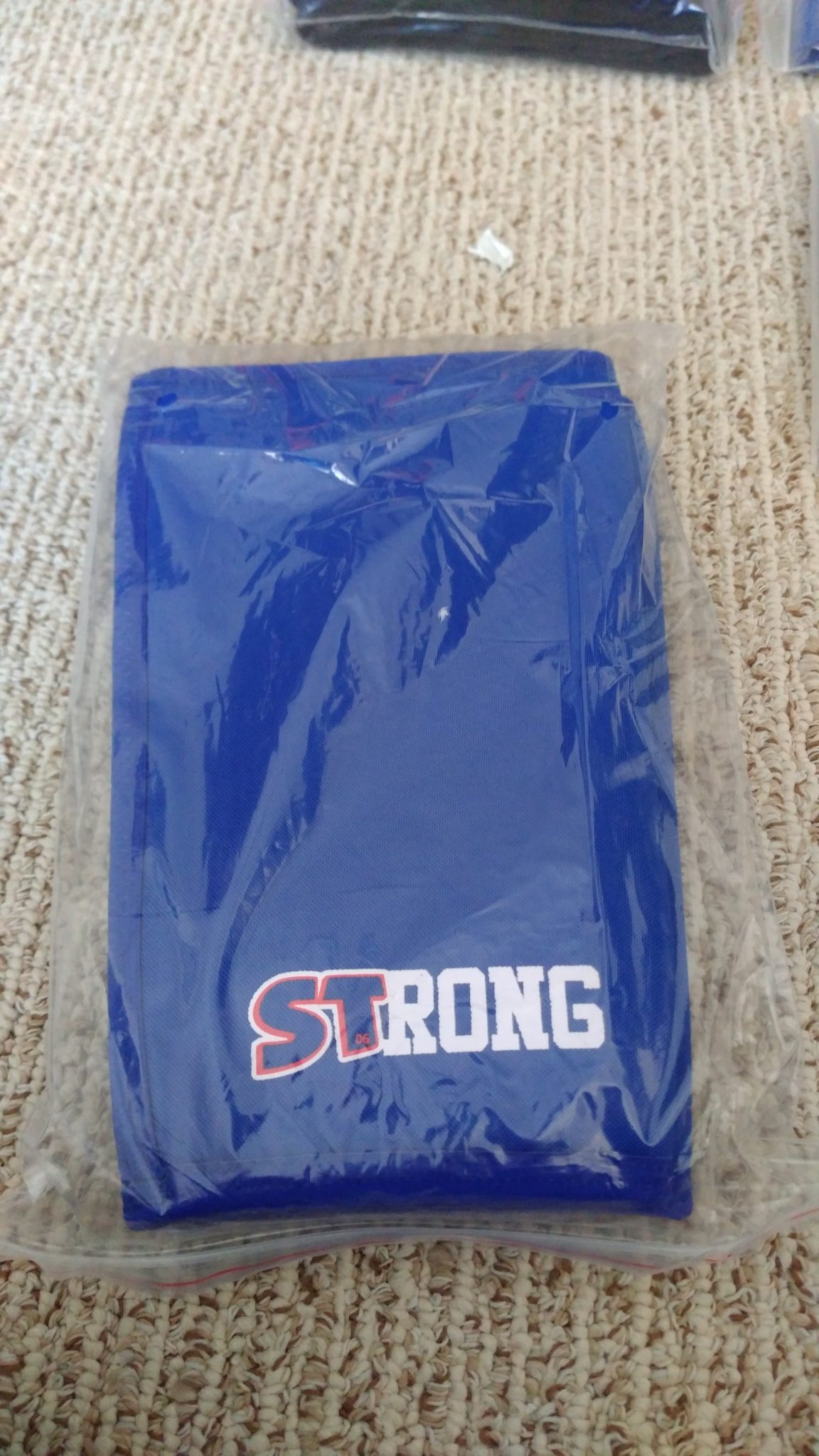 In a line: The heaviest duty sleeves that are competition legal – BEST KNEE SLEEVES FOR SQUATS!
These are the heaviest duty sleeves that I would go with for squatting before you're getting into the category of knee wraps and heavy compression. The goal of a good knee sleeve is to provide compression, support, and keep the knees warm. While it's more about protection, some performance increases can be seen from just knee sleeves. SlingShot walks a fine line between the two and these are the heaviest sleeves I would recommend for heavy squatting.
Max specifications permitted by the IPF (see what I mean?)
7mm high-grade neoprene – THE THICK STUFF!
30cm in length – this comes up the quad and goes down the calf for connective support
These are really the cream of the crop when it comes to heavy-duty sleeves. I recommend them for athletes and lifters on high-intensity programs where they're squatting multiple times per week. The durable construction is designed to maintain elasticity and compression over thousands of squat sessions. Don't hesitate to pick these up. SlingShot was kind enough to send me a pair to try and they DIDN'T disappoint.
Kunto Fitness Knee Sleeve (4 / 5)
In a line: Another pair of heavy-duty sleeve without the heavy-duty price tag
This next sleeve here is a middle ground option between something like the Rehbands or Nordics and the STrong Sleeves. These are heavy duty but not quite on the level of the STrong's. I like the tapered quad section of the Kunto's that makes for a really comfortable and secure fit. I recommend these sleeves for the athlete or lifer that does a healthy mix of both powerlifting and Olympic lifting because it's suitable for both of them and you won't be wishing yo got something heavier for squats.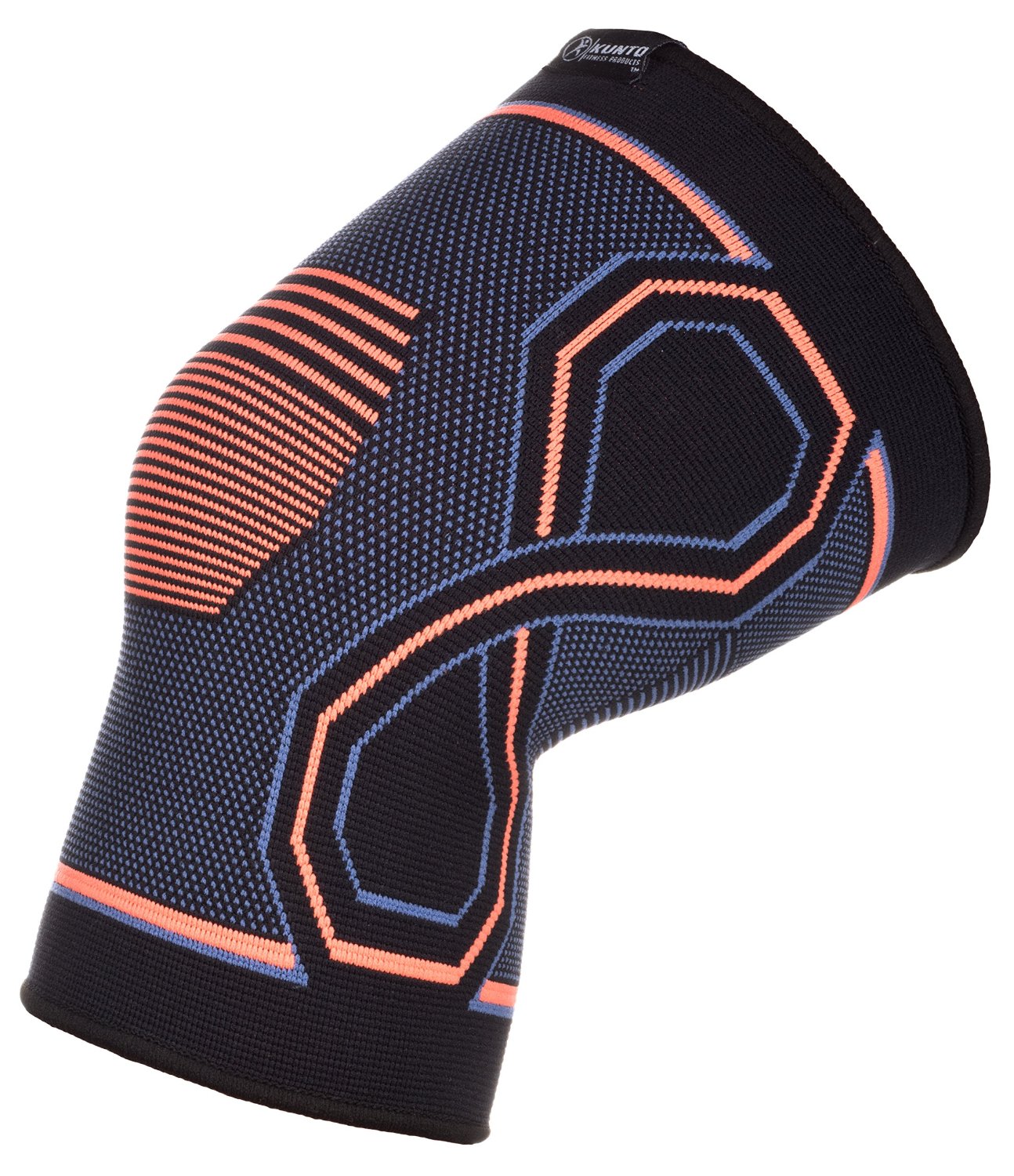 Very comfortable with a tapered design
Non-neoprene sleeve
Provides excellent compression for any activity
Medium-duty sleeve (great for Oly and powerlifting together)
Manufacturer has great continued support
Overall these are a really great option for the multi-athlete not wanting a light-duty pair of sleeves, and not wanting to shell out for a paid of SBD's. These are a great pick for that scenario.
Rehband 7751 Knee Sleeve Review (4 / 5)
In a line:  Crossfitter's choice, light-weight and durable
Did you think you were going to make it out of this article alive without another mention of the Rehband brand name?! Introducing the 7751 is the light-duty Rehband sleeve that's gaining popularity in the powerlifting and Olympic lifting crowds. Rehband's construction is so solid that they decided the could shave off 2mm from their sleeve thickness and still kick ass.

5mm thick neoprene
Offers that same great Rebhand durability and compression
Light-duty sleeves
While being 2mm thinner they would be classified as "light-duty" I beg to differ. These lack no support for any of the big compound movements or athletic training. They're lighter, you barely notice them, and you can still max out your lifts in them. The 7751's also have quite a variety of colors and designs available if that's your thing.
How to pick the best knee sleeves for lifting
Hey! You made it through my top 5 lifting knee sleeve picks, and you still don't know which ones to get? Don't worry I'll sum it up quickly so you can get back to gaining ASAP:
For powerlifters: If you're on a budget, go with the Nordic sleeves. If not, pick up the STrong Sleeves by Slingshot – they're heavy duty and will last you over the years while providing excellent compression. You won't be disappointed and in my opinion these are the best sleeves for squats in this current day.
For Olympic lifting: If you're on a budget, go Nordic. If not, pick up one of the Rebhand sleeve sets.
For CrossFit: It's hard to argue with the versatility of the Rehband 7751's – go with these if you can.
On sizing, if you can try them on in store always do that. If not, err on the smaller size when ordering online as I prefer the extra compression wherever possible. In either case, most big online retailers have great sizing information and return policies so it's hard to fail.
When measuring your knee make sure you follow the manufacturers guide to measure the proper parts of your knee and leg – this will ensure the best fit.
What do knee sleeves do?
Good question! And good information to know when you're trying to find knee sleeves for the type of lifting you're doing so you can assess the features and come to a decision.
Knee sleeves work to protect your knees by first keeping them warm and insulated. Next they provide compression to the knee joint and surrounding tendons/ligaments to support the knee. Finally, when performing an athletic movement or a squat they provide elasticity which can allow you to perform more by lifting heaver weights but also protect you from straining your knees and ligaments.
Do I need knee sleeves?
If you squat more than once a week I would say so. Most beginner programs should have you squatting more than three times per week and I always advocate the inclusion of knee sleeves into a program.
Now, that leads me into my next point – you SHOULDN'T always wear your knee sleeves. In the end, they do provide artificial support that your body no longer needs to produce when wearing them.
I suggest warming up without your knee sleeves, and only using them for heavier sets. You should also work into your program days and weeks where you don't touch the sleeves at all to ensure your muscles, ligaments, and joints are developing properly.
I've heard I can wear them while I'm not lifting
Well then you would have heard correctly. The compression that the knee sleeves provide can be therapeutic in reducing recovery times. You can also wear them throughout the day if you work a strenuous job or have a knee injury.
So summing up the uses of knee sleeves, you can:
Wear knee sleeves while lifting weights to protect, support, and increase performance
Use your knee sleeves when you're resting to reduce recovery times
Put your knee sleeves on while performing everyday strenuous activities
Wear your sleeves to rehab injuries, say after surgery or if you have a sprain – this study showed a reduction in pain and inflammation after wearing sleeves
Overall they're very useful to have in your lifting equipment arsenal and I recommend every serious lifter should own a pair.
Knee sleeves are not to be confused with knee wraps which are another type of supportive knee equipment used in heavy squatting and powerlifting training, and more specifically in equipped powerlifting competition.
Conclusion
I set out to create this article to help lifters find the best knee sleeves for lifting and provide real-life information reviews to save you time researching, so you can keep gaining. If you liked my reviews let me know in the comment, if not let's hear it! Tell me about your experiences with knee sleeves and which ones are your favorites.