The best bumper plates whether for olympic lifting, crossfit, or powerlifting can be found online, in stores, or my favorite way – getting them used. Bumper plates serve a few purposes – if you're performing a movement with weight below 45lbs, instead of using a smaller sized 5, 10, or 25lb plate you have a full sized plate. This will allow you to properly perform the snatch, clean, deadlift, and row from the starting position that you would when you eventually get 45s on the bar.
Best Bumper Plates: Top Picks
[supsystic-price-table id=13]
[su_divider top="yes"]
Bumper plates are also more durable than steel plates as they have a coating and various material inside to make up the weight. Bumper plates have a bit of bounce to them when you drop them, making it a bit more friendly to handle the weight if it's dropped from the waist, or over the head in the case of olympic lifts.
Dropping a bumper plate on a garage floor or gym floor is also way less harmful than dropping a steel plate in the same spot where it may crack concrete or damage the surface.
How to Pick the Best Bumper Plates for You
Bumper Plate Price Guide
The way to look at the cost of a bumper plate is to check out the cost per pound. Before getting too far into the things to look for when purchasing bumpers for your home gym let's look at the price ranges to familiarize ourselves:
Standard steel/cast iron plates – $1-2 per pound
Standard bumper plates – $1-5 per pound
High-end competition/training bumper plates $5-10/lb
Top tier, maybe over priced bumper plates – $15+/lb
I think that you can get good quality plates for under $5, and the top tier stuff can go up to around $7 per pound. I would probably cap the cost vs benefit at about $7 from my research on bumper plates and their cost per pound.
[su_divider top="yes"]
Picking a Bumper Plate Material
Let's go over the materials that are commonly used for bumper plates!
Other than the steel/iron plates that are sometimes used in place of bumpers (more commonly in powerlifting) most bumpers are coated with thick rubber that allows the bar to land safely on the ground or platform from which the plate is being lifted.
Actual bumper plates are coated with either rubber or urethane. Urethane coated plates are essentially a step up from steel plates but they're not actually bumper plates in the sense that they're capable of being dropped from overhead when doing olympic/crossfit movements. In a quick summary:
Steel plates are the cheapest but generally not recommended for olympic/crossfit – but they're perfect and cheap for strength training
Urethane coated plates are a high-quality plate for strength training but not recommended for dropping from heights during oly/crossfit
Rubber coated plates are the only "true" bumper plates that are a necessity for olympic lifting and crossfit, or having standard plate size for deadlift/row movements
Yes technically you could use steel plates for your olympic lifting needs but I won't be the one taking the blame when either the plate breaks, or your floor breaks – you've been warned! Bumper plates really aren't that much more expensive than steel plates – especially if you buy them used. In fact most of my recent searching returns that they're actually very similarly priced so if you're ever interested in doing overhead movements then just get them instead of steel plates.
The look of rubber plates over steel plates can be appealing, and rubber is also WAY quieter than steel plates as they're always clanging around. If you're constructing a gym inside your home and like to work out early or late then it's a no-brainer to get rubber bumpers even if your focus is strength training.
The final material option is a solid/thick plastic plate called a technique plate. These plates are available in sub 45lb increments and can handle insane amounts of abuse. I recommend them for anyone just getting into crossfit/olympic lifting, or someone who wants the bar at the proper height for deadlifts and rows.
[su_divider top="yes"]
Best Bumper Plates Reviews
Getting started, there are a ton of different bumper plate brands out there. The best bumper plates are the ones that fit your budget, give you the right amount of weight, and finally if your budget is friendly there can be some aesthetic needs.
Some of the types of plates you'll run into are:
Hi-temp Bumper Plate Reviews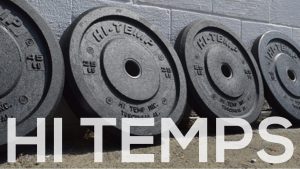 A lot of different brands have their own version of Hi-temp plates – they're a great option as they're one of the few plates manufactured in North America. These are heavy duty plates that have been in production for more than a decade in Alabama.
Rogue Hi-temp plates are top notch with a 2″ stainless steel insert that's inset from the face of the plate to give greater protection when stacking up multiple plates. What's great is you can order as little or as much weight as you need – buy in 10, 15, 25, 35, or 45lb pairs or get sets from 160lb to 1000lb. Rogue Hi-temp plates also come with a 1 year warranty and are ever made using recycled rubber.
Like I said above, many people brand Hi-Temp manufactured plates and these are a really reasonably priced plate coming in at around 0.50-2$/lb (depending on if buying a set or individually) with great dimensions and equability – hard to go wrong with these for your home gym, commercial gym, or other use. The coating and durability is friendly for unmatted surfaces – if you're working on bare concrete, a garage floor, or minimal padding these will handle it just fine.
The only downside to Hi-temp plates is the 45lb plates have a 3-3/4″ width which maxes out a standard size bar with 4 plates – if you need to lift more than that you'll have to mix in thinner plates, or get heavier 50 or 65lb plates. These type of plates are on the softer, and bouncier side. I think overall the Hi-Temp are the best bumper plates for oly and crossfit home or commercial gyms.
[su_divider top="yes"]
Competition Bumper Plate Reviews
Competition plates are top-quality, and color coated so you can determine the amount of weight quickly. They come in lb or kg to match your local or federation. In the competition levels you'll see a lot more 55lb plates used and it's common to have a few of these on hand if you want to end up with a lot of weight on a standard bar. Several different brands make good quality competition plates:
Rogue and Rogue 2.0 Competition plates (in kg and lb)
Ivanko
Eiliko
WerkSan
All of these plates are going to be very similar at the end of the day, matching competiton specs, with high-quality collars, durable inserts, and minimal bounce. These plates are meant to be used on a competition platform and the design reflects that. If you're going to get competition plates be sure to have an adequate platform or else just go with bumper, or training plates as these will get shredded easily. They're harder and have less bounce than any other plates so they rest quickly on the platform. Competition plates normally come in a standard color scheme with green, yellow, blue, and red plates scaling up with weight.
Since the plates are so similar, you're paying for a brand name and trust. Rogue plates are going to be the most budget friendly, and you'll see them in the crossfit games from time to time but the Eiliko plates are seen regularly in international and Olympic competition. Some plates may also be certified for different federations – if you're picking these up for use in a tournament be sure to double check that fact.
[su_divider top="yes"]
Training Bumper Plate Reviews
Training plates are somewhere in between bumper plates and competition plates in terms of quality, and durability. They use the same color coating as the tournament/competition plates but take on more of the characteristics of the bumper/hi-temp plates to be used and abused in regular training. I think that choosing between training plates and bumper/hi-temp plates is a matter of deciding if you want the aspect of color coating or not. Also, like comp plates the training plates will be more likely to have a 55lb or greater option to put heavier weight on a standard size bar. Most brands that make competition plates will also have a training plate line like:
Rogue and Rogue 2.0 Training Plates
WerkSan Training Plates
Uesaka
I think that it's hard to go wrong with Rogue training plates unless you want training plates to match competition plates and stick with a certain brand. Their plates offer the best value per pound and are put together very well with firm collars, and inserts that will last.
[su_divider top="no"]
Powerlifting Bumper Plate Reviews (Steel Plates)
Depending on your surface for your home gym or commercial gym, I could see using bumpers or Hi-Temp bumpers. Loading up one or two bumpers and using the rest steel plates gives a great dampening and noise reducing base close to the axle of the bars. Bumpers or hi-temps will also last longer when dropped on concrete or lightly matted surface in comparison to steel plates.
My recommendation is if you have minimal matting, go with at least a few rubber bumpers or Hi-Temp plates and fill the rest of your collection out with steel plates (they're thinner and you can fit more weight on the bar which is generally sought after for powerlifting). If you were serious about progressing in powerlifting, running out of room on the bar with 4 bumper plates would be a bit frustrating.
If your floor surface is well matted and protected – definitely go with steel plates. In powerlifting, there's no reason for bumper plates and steel plates are way cheaper – plus you can fit more on the bar. Here are some good options for steel plates:
Rogue Olympic Plates (lb or kg options)
York Legacy Plates
Also I would definitely recommend checking used on Craiglist, Kijiji, or whatever used ad source you have available to check what's used and available. In a pinch you could use steel plates for oly/crossfit but I would recommend a very protected surface and getting bumper plates as soon as possible. Steel plates are the best bumper plates for powerlifting for sure – cheap and they get the job done.
[su_divider top="no"]
Regular Bumper Plate Reviews
Regular bumpers, very similar to the Hi-Temp plates are just a step down in my opinion but also cheaper. Regular bumpers are generally a bit harder than the Hi-Temp plates which can be a positive or negative. Some like the bounce of the Hi-Temps that make them nice to catch and predictable after a drop from overhead. I think that the softness of the Hi-Temps makes them more durable and last longer than these regular rubber bumper plates. The nature of the recycled rubber of the Hi-Temps also has an appeal and is a benefit to weigh.
You can find bumper plates by just about any company, Rogues are great – and probably the greatest value as well:
HG Rogue Bumper Plate 2.0 (kg and lb options)
A speical option: The Rogue 65lb Gorilla Bumpers – get a lot of weight on the bar with these bad boys.
WerkSan makes a nice set of bumpers that are only a bit more expensive than the Rogues
Uesaka makes a very expensive set of bumpers that are really well made but the price is steep
[su_divider top="no"]
Urethane Bumper Plate Reviews
Urethane plates are very hefty, and have a dead bounce to them. They're hard as hell and won't move much after you drop them, even from overhead. They're not competition plates, and I compare them to the Hi-Temps which I think make them kind of obselete. The Hi-Temps are cheaper, close to as durable, and made from recycled material. These urethane plates ARE the most durable on this list, but I just don't think you'd see the difference between Hi-Temps or urethane plates in a lifetime.
Rogue makes a set of urethanes
York has urethane plates as well
[su_divider top="no"]
Fractional Plate Reviews
Let's not forget about the small weights! This may not be as important for powerlifting, but in Olympic and Crossfit, every extra pound counts in lifts that are so technically demanding and where another 1-2lbs at the highest level is a big deal. Rogue has all your fractional plate needs covered with kg and lb plates available – they really crushed this part of the market so I don't see any reason to go with any manufacturer:
Rogue kg fractional plates
Rogue lb fractional plates
[su_divider top="no"]
So what are the best bumper plates for me?
I think as a basic recommendation for those doing powerlifting with some matting on the floors I would always pick steel plates. For those doing oly/crossfit in their home garage/gym – go with Hi-Temps they offer the best value per dollar and will last a lifetime.
If you want to train with competition plates or need them specifically for a competition, that avenue is open to you. If you want to mimic competition plates and get training plates – they're very durable plates that will have the same color coating and bounce feel to get you in the zone and competition mindset (which is important).
Urethane plates are the most hardcore on this list if they're REAL urethane. Above I was talking about gyms having urethane coated steel plates that are no good, but if you get urethane Rogue plates – these things are heavy duty and will outlast even the Hi-Temps.
Overall, the best bumper plates are the ones that fit your budget, and won't damage your floor. Thinner plates are better for powerlifting (steel plates are the thinnest) because you eventually end up with more plates on the bar for deadlifting. Hi-Temps are the most durable and multi-use plates – you could even use them for powerlifting if your floor isn't friendly for steel plates. Look for deals online on Amazon, the Rogue Fitness Store, and check your local classifieds. Read other bumper plate reviews online too to see what other folks in your situation liked.
I hope this best bumper plates review article helped you – if it did I'd love to hear from you in the comments. If you have a set of plates you're using and you like them or don't like them – let me know!